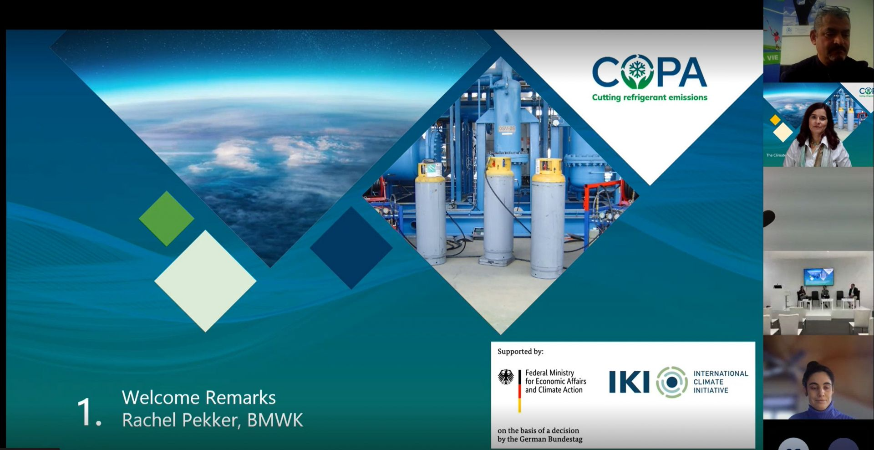 11 /2022
COP27 Side Event
Shedding light on a blind spot: Leveraging the vast emissions reduction potential of correct disposal to achieve NDCs
On 12 November 2022 the Climate and Ozone Protection Alliance was introduced to interested participants of the Conference of Parties in Sharm el-Sheikh. The event was organized by GIZ with kind support from EIA and IETA, initiated by the German Federal Ministry of Economic Affairs and Climate Action.
Currently, there are no global agreements in place to address the challenge of accumulating ODS and HFC banks in old cooling equipment. As a result, this specific emission reduction potential has remained largely untapped up to now: The newly launched Climate and Ozone Protection Alliance (COPA) brings together all relevant actors to jointly work on urgently needed solutions for ODS and HFC banks. COPA will support member countries and partners in exploiting GHG emission reduction potential in ODS and HFC banks management, thereby making a significant contribution to achieving partner countries' mitigation and nationally determined contributions (NDCs) targets and contributing to the Paris Agreement goal of limiting global warming to below 1.5°C increase.
The focus of the side event was to highlight the potential of managing ODS and HFC banks and how it can be used to raise NDC ambitions. Besides Rachel Pekker from the German Federal Ministry for Economic Affairs and Climate Action, we had Ellen Michel from GIZ indtroducing us to COPA as well as Youssef Hammami, National Ozone Unit from Tunisa talking about Ads and HFC abnks management from a countries perspective. After that Dietram Oppelt shared with us some business cases before we had a little Q&A session in the end.
Sophie Geoghegan from EIA, UK was the facilitator of the event taking place at IETA Hub. IETA is the international Emissions Trading Association and were so kind to host us at COP27.